Resolving employee conflict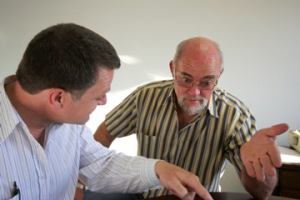 Mediation
If you have conflict between individual employees or a group of employees that are affecting the operations of the business, then regardless of the reason for the conflict, mediation might be the answer.
Jan became an Accredited Mediator with the Resolution Institute with 12 years of experience, who will assist parties by providing a safe environment to explore, discuss and reach a resolution to their issues.
If you think this might help - call us today.
Conflict Resolution Training
We are able to offer a whole range of especially designed conflict resolution training to meet the needs of each specific group. We have the following courses:
Conflict resolution for managers - providing basic techniques to resolve conflict;
Team conflict resolution workshops - this helps the team to understand and be able to work through conflict themselves.
Conflict resolution workshops - to help individual employees understand the nature of conflict and how to work towards resolution.
Dealing with difficult situations.
We also run a workshop designed to assist managers with dealing with difficult conversations such as, challenging performance issues, making someone redundant and giving positive and improvement feedback.
Personal Grievances
If you have received notice of a personal grievance from one of your employees and you are not sure what to do, then give us a call. In managing a personal grievance we can provide you with the following advice and support:
Steps to take to manage a personal grievance;
Management of a personal grievance on behalf of the client which includes correspondence and planning the strategy;
Providing lead advocacy services representation for the client's case at mediation;
Negotiating outcomes/resolution on behalf of the client with the employees lead advocate/representative.

Industrial Issues & Disputes
We can help with advice and support on the resolution of disputes and industrial relationships with Unions. If you need:
Assistance with resolving issues/relationship problems with the Union/s;
Assistance with negotiating employment agreements and resolutions;
Assistance with strategy and planning your industrial relationship;
Assistance with developing more positive partnerships with Unions;or
Just advice on how to do all of the above.
We can help so contact us today.